NewHomeListingservice (NHLS) will help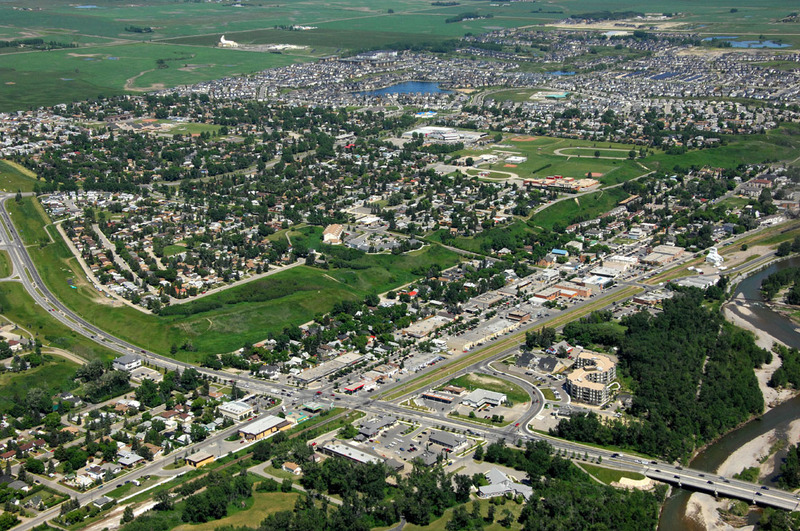 you find ALL of the different types of new houses for sale in Okotoks. Click through the properties you like and reach our directly to any builder if you'd like to learn more about a new home for sale.
Okotoks is a town in Alberta that is situated on the Sheep River, about 18 kilometers south of the City of Calgary. Over the years, Okotoks has emerged as a bedroom community of Calgary, and the 2014 census estimated that there are 27,331 people who call Okotoks home. Okotoks is known as the largest town in Alberta. Okotoks is derived from 'ohkotok', the Blackfoot First Nation word for 'rock'. This name may be in reference to Big Rock, a glacial erratic (and actually, the world's largest) that is located 7km west of the town.
Before the town became an established settlement, First Nations travelling through the area used the rock as a marker to find the river crossing situated at Okotoks. Over time, trading posts sprang up and people began settling there. The first settlers arrived in 1882 and in 1891, a community grew around a sawmill that was established in the area. Fast forward to today and Okotoks is a vibrant and growing community that boasts 100 plus years of existence. (Photo: Alberta Community Profiles)
Find Communities in Okotoks
Drake Landing
Westmount Estates
Crystal Shores
Cimarron


See below the Houses for Sale in Okotoks

Photo: Fineartamercia
Okotoks has a vibrant art community and sustains the impressive Okotoks Art Gallery. This gallery is devoted to the exhibition of art and visual culture, and has been doing so since 1981. This gallery houses both historical and contemporary art exhibitions, on an ongoing basis, in a bid to promote an exciting interaction with art. Okotoks is also home to Okotoks Museum & Archives and the Rotary Performing Arts Centre, both of which promote exploration and connection to history, besides encouraging performing artists to explore their skills and abilities.
Okotoks is served by both private and public air services. The nearest commercial air service is at Calgary International Airport, which is 64 kilometers north of Okotoks. The Okotoks Air Ranch is a certified airport that provides private air services. The town of Okotoks is also served by railway lines and highways, including Highway 2A and Highway 7. The main economic activities in Okotoks today include beef processing, manufacturing, construction, transportation and trade, finance, government, education, insurance, real estate, professional and retail services. There are numerous economic resources including natural gas, oil, sulphur, sand, gravel and water.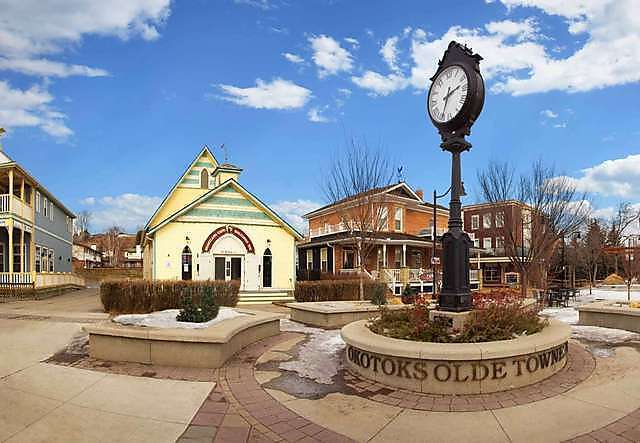 Photo: Okotoksonline
Like most parts of Alberta, Okotoks has both public and separate/Catholic school systems that cater to the varying educational needs of its residents. Okotoks also has highly reliable healthcare and emergency services, so you can rest assured that you are protected at all times. There are both indoor and outdoor recreation facilities in Okotoks, including Skateboard Parks, skating arenas, swimming pools, a curling rink and even campgrounds. And if you like golfing and fishing as well, you can do that in Okotoks.
Okotoks averages 6.34 sunshine hours per day, which is quite pleasant if you ask me. There are 112 frost-free days in a year, which gives you plenty of days to do all the outdoor activities you dream of. With such appealing weather conditions, beautiful scenery and a vibrant economic scene, I would greatly recommend settling in Okotoks.

Photo: Okotoks.ca
Search for your newly built home in Okotoks by:
New Single Family Homes in Okotoks
New Condos in

Okotoks

New Townhomes in

Okotoks