Photo: Albi Homes
Homes for Sale in The Shores, Chestermere
The Shores within Westmere, the west side of Chestermere Lake, boasts the largest lots in the area. This vastly changing neighbourhood has been known as the area that many wish to experience one day. With many lots backing right onto Chestermere lake, there is no lack of reason as to why this community is highly sought after. Extraordinary standards and stylish streetscaping is exactly what makes this area stand above the rest. Extra large side yards, generously spaced home sites, stunning landscaping, large parks, and elegant home styles are some of the many features that complete this area.

Melcor is the proud developer of The Shores and one of western Canada's premier community developers. This company was established in Edmonton and develops land throughout Alberta, British Columbia, Colorado, and Arizona. The Architectural standards brought by this developer and the connected homebuilders, create quality living and safe considerations. Each variety of traditional house styles allows for unique homeowner expression and ensures an aesthetically pleasing experience along the street.
The Value in The Shores
There are many reasons why this place holds value. For instance, schools are within
walking distance and shops and services are close by. There are natural areas, green
spaces, and pathways that wrap around the community and the lake.
You don't have to compromise city amenities since Chestermere is only minutes drive
from Calgary's outer limits. A daily commute to downtown Calgary is done often by
residents. It makes the perfect balance between wanting peaceful lake living but living
the continuous career life out of Calgary.
It is easy to do all the fun little things that a small city has to offer such as pampering
yourself, buying a nice bottle of wine to share with friends, or pick up a local pizza and
enjoy it on your backyard deck overlooking the lake. Chestermere station offers the
conveniences such as Safeway, Shoppers Drug Mart, and Tim Horton's. There are also
three other shopping and service centres just a short drive away for residents.
Of course, no one can forget Chestermere Lake for guaranteed year round recreation
fun. The lake is Westermere's primary summer and winter attraction. You can ice skate,
sail, swim, or simply wander about the shore and let your mind flow with the water waves.


See below the Houses for Sale in The Shores
Prominent Parks
Close to Westermere you can discover John Peake Park, where you can find a public boat launch, picnic area, and play area. With great appreciation to the Government of Alberta, residents and visitors will also enjoy the upgraded Park's promenade and shoreline. If you are a committed cyclist, there is a pathway that connects right into Calgary's pathway system!
There is a nearby skate park and the community recreation centre offers two arenas, a gym, curling rink, ball diamonds, and soccer fields. If you want something a little more unique, you can interact in the local Tae Kwon Do club, Karate, or Quilters. Last but not least, there is the Lakeside Green Golf & Country Club that highly recommended. You have a great deal to choose from in The Shores!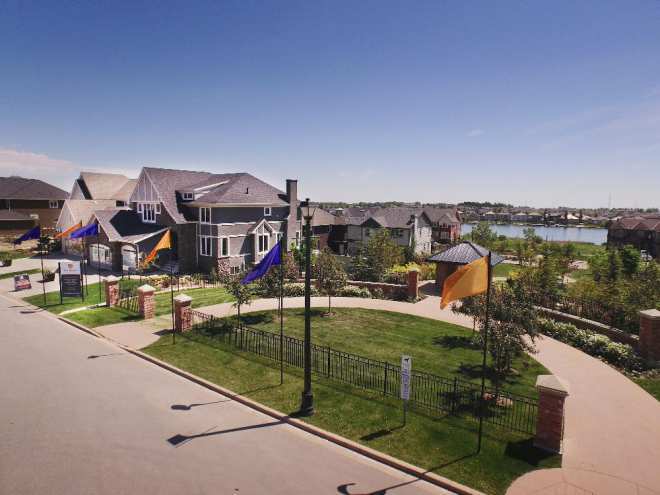 Photos: ShoresatChestermere/Calgary Herald