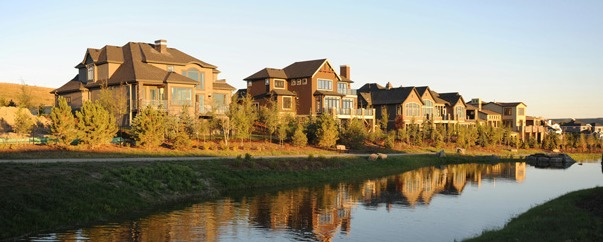 Photo: WatermarkatBearspaw
Homes for Sale in Watermark at Bearspaw, Calgary
Watermark at Bearspaw is a community that is located close to the Bow River, Bearspaw Reservoir, and Glenbow Ranch Provincial Park, just on the edge of the City of Calgary. This unprecedented new community is a sought-after area where prairies roll toward the Rocky Mountain viewscapes. Watermark prides spacious home sites where the bustle of the city fades away conveniently into a more relaxed pace of living. The community of Watermark at Bearspaw has proudly received the Sales and Marketing Award (SAM) for Best Community in Calgary 3 years in a row (2012, 2013, 2014) and the Best Community in Canada 2 years in a row (2012, 2013) from the Canadian Homes Builders Association.
One of Watermark at Bearspaw's most appealing features is its quick and easy access to essential amenities and services – from grocery stores and shopping malls to ski hills and sports complexes to schools and medical centres. Two extraordinary golf courses – Bearspaw and Lynx Ridge – are minutes away, and the eastern gateway to Glenbow Ranch Provincial Park – 3,400 acres of unspoiled parkland along the Bow River – is right on the community's doorstep.
Some features which set Watermark apart are the proximities to breathtaking nature essentials such as the cascading ponds. A commitment to the land is something that the developer promises to deliver, and Macdonald Development Corporation (MDC) is committed to ensuring that Watermark evolves as a truly distinctive community. MDC is a family owned company, and has been delivering exceptional properties to the market for over 25 years. This community continues to set goals and standards to achieving a more sustainable lifestyle.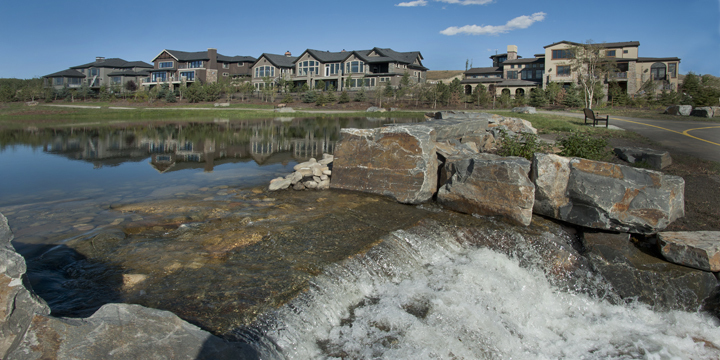 Photo: WatermarkatBearspaw
See below the Houses for Sale in Watermark at Bearspaw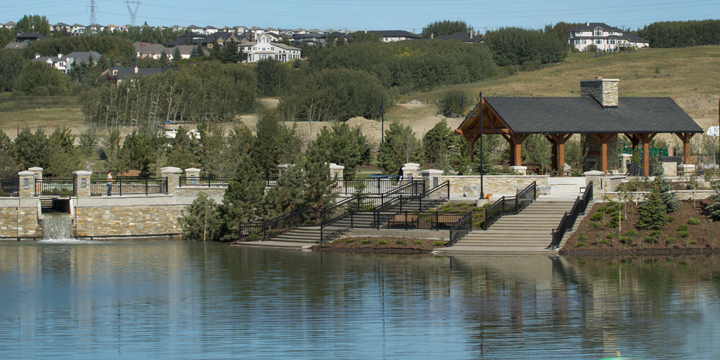 Photo: WatermarkatBearspaw

Top Building Details in Watermark
Macdonald Development Corporation has carefully developed their architectural design guidelines that provide a stylish framework for the community's luxury estate homes. These elements have been carefully chosen to create a cohesive community of consistent high quality. However, it doesn't mean that these guidelines are always absolute or prescriptive; rather they are encouraged to design creatively within a range of styles. The intent is to maintain an environment of uncompromising quality while empowering owners to create homes reflective of their individual styles.
Watermark truly operates to collaborate designers, builders, and you, to make a dream home into a reality. This is the first community in Bearspaw to offer distinctive and easily managed new home lots from one quarter to one acre in size. This area facilitates the perfect balance between wanting to escape the density of city living but not wanting to trade the urban comforts of manageable lots and all front yards are maintained by the community's HOA, so driving home into your community will be picturesque every day. These home styles are available in a broad variety of sizes and widely spaced from each other, and the lots in Watermark at Bearspaw are full connected to regional water and sewer services.
The Lifestyle
The Watermark master plan is exactly what can link your home to the Bearspaw lifestyle. If you're in search for the great outdoors and a great neighborhood, this development is the perfect match. Not only can residents utilize the many outdoor amenities to stay fit, they also stay connected. There is a built central plaza that contains an outdoor dining pavilion, outdoor kitchen, and a fire pit that guarantees a perfect gathering point all year long. This is known as the Watermark Central plaza and also boasts an NBA-sized sports court, grass sports field, and children's playgrounds.
When taking on outdoor adventures, there are over 5 km of trails for walking and cycling. The expansive parkland is outlined with beautifully landscaped trails. The linking cascade ponds, tumbling streams, sports court, and playgrounds give activities for all types of residents. As a Watermark homeowner, you are part of an area that is connected to nature and peaceful estate living.


Photo: WatermarkatBearspaw