Photo: Korerealestate
Homes for Sale in Redstone, Calgary
Redstone is the community that has proudly brought an integration of healthy living and environmental responsibility in Calgary. Being nurtured by Qualico's EQwell philosophy, the neighbourhood brings focus to family values. Features such as a high quality pedestrian pathway throughout promotes non-vehicle transportation and residents can really enjoy the expansive 3.5 kilometre regional pathway. Even fitness equipment stations will be incorporated for resident and visitor use. The future LRT station, two school sites, and plenty of parks make this community a convenient and family friendly place to stay.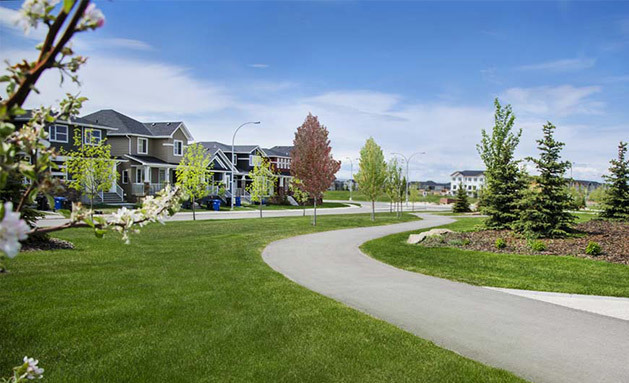 Photo: Qualicocommunities
See below the Houses for Sale in Redstone

Vibrant Living
There are diverse opportunities in Redstone, where every stage of life was designed in mind in this neighbourhood. With a variety of architectural styles, green spaces, and the streets scaled for pedestrians, Qualico created a mindful and positive development. You have access to an abundance of shopping, playgrounds, and parks in this area. With places such as Skyview station, Cross Iron Mills, and Country Hills Village Shopping Centre, you are within minutes of great retail choices.
The developer made a conscious effort to incorporate the convenience of nearby amenities while creating a new place to experience more rural treasures. The garden lots and the Island Park connect to shops and businesses further into the centre of the community.
Photo: Sothebyrealty
A comprehensive Master Plan has been developed to address the water and waste management in Redstone. The community takes great pride in being a leader in sustainable stewardship in the Calgary area. As approved by the city, all runoff from Redstone will be drained into storage facilities using a system of minor and major conveyance systems. A wide variety of features have been implemented to converse resources and enhance energy efficiency.
Redstone's sustainable practices:
Roof and parking lots drainage on multi-family and school sites
Bio-retention areas used to enhance the amount of water retained for plant consumption
Roof drainage from single-family homes to be directed onto landscapes areas (current City of Calgary bylaw)
Each home comes with a rain barrel
Xeriscaping (use of drought-tolerant, native species for landscaping)
QEwell homeowners receive educational materials and access to information about water management and recycling.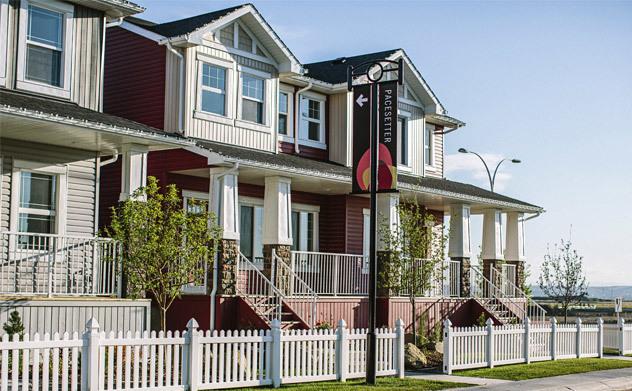 Photo: Qualicocommunities