Photo: Qualico Communities
Homes for Sale in Evanston, Calgary
Evanston is a community that allows families to flourish. With an environment that fosters holistic values such as in the growing prairies, people feel encouraged to come together in this neighborhood. These values are shown through fewer fences, more open spaces, back lanes, and beautiful verandahs. More opportunities for conversations and more to see are invitingly present in Evanston.
Located in the Northwest of Calgary, Evanston is a place for spacious lots and is highly sought after. Playgrounds, neighborhood gazebos, and gracious green spaces have been designed for this active community. It collectively opens the attitudes of many to exude a feeling of openness and warmth. The prairie values in a quiet environment offer the charm that Calgary residents search for.
Evanston was voted the best new community for 2013/2014 and details some of the best homebuilder craft that Calgary has to offer. The community holds acres of green space that is ideal for sports and neighborhood events. Great and safe schools are nearby and along the community and amenities are easily accessible. Evanston is moments from Stoney Trail or Deerfoot Trail and includes a balanced mix of architecture, design, and amenities. Evanston Town Centre features banks and restaurants along with upcoming shops. Residents can also enjoy easy access to Creekside commercial area nearby.
Utilizing Stoney trail can allow easy travel to CrossIron Mills Shopping Centre and Beacon Hill Shopping Area, which collectively features hundreds of retailers and grocers. Beddington Trail conveniently connects straight to Deerfoot Trail and subsequently downtown. Taking alternative routes available depending on the time of day can reduce commute times to Calgary.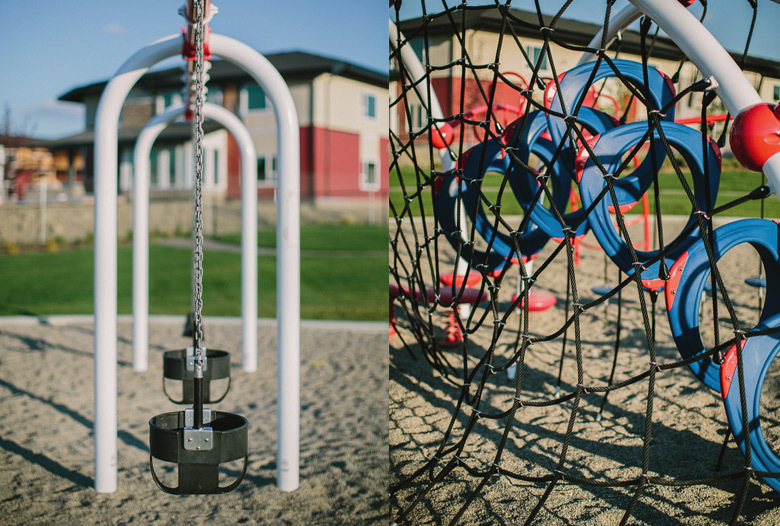 Photo: Qualico Communities
See below the Houses for Sale in Evanston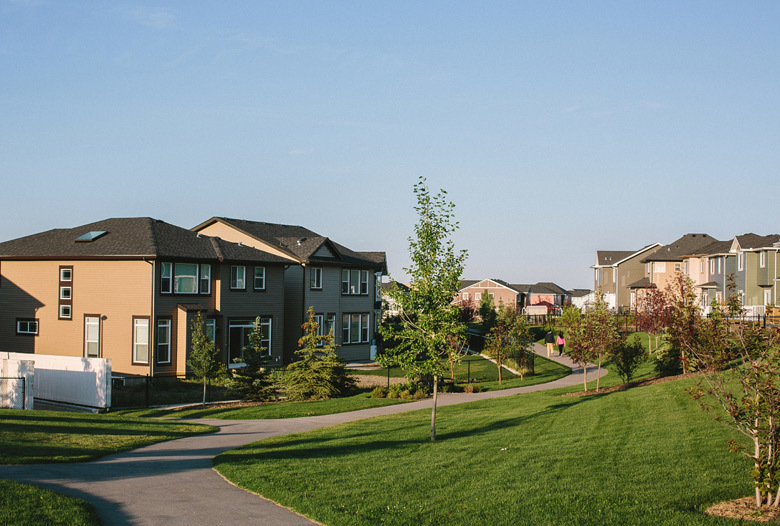 Photo: Blog Navut

Earth Initiatives
Planning a community the smart way is including a plan for the future. The things we enjoy today are truly magnificent when they provide great benefit for the generations to come. Evanston's planners, builders, and engineers have implemented measures such as water conserving appliances in the homes and low-water landscapes designs. The feedback from homeowners up to this time has been positively responsive; therefore Evanston goes above and beyond the guidelines suggested by Calgary Waterworks and Environment Canada.
Qualico Communities is the proud builder that provides a free rain barrel to every newly built home as it passes the water conservation inspection. This means your newly built home in Evanston can be praised and rewarded in the community! The standards that are required to qualify these homes include: low water usage for toilets and faucets, energy star washing machines and dishwashers, and insulated hot water taps. All these features will help your home consumption and the community's goals.
Qualico's team proudly includes experienced builder groups such as Sterling Homes, Pacesetter Homes, NuVista Homes, Broadview Homes, and multi-family builder Streetside Development Corp. The two other builder partners include the acclaimed Jayman MasterBuilt and Trico Homes. Qualico has brought its 50 years of experience to create a community in Evanston that meets the needs of a wide range of Calgary residents.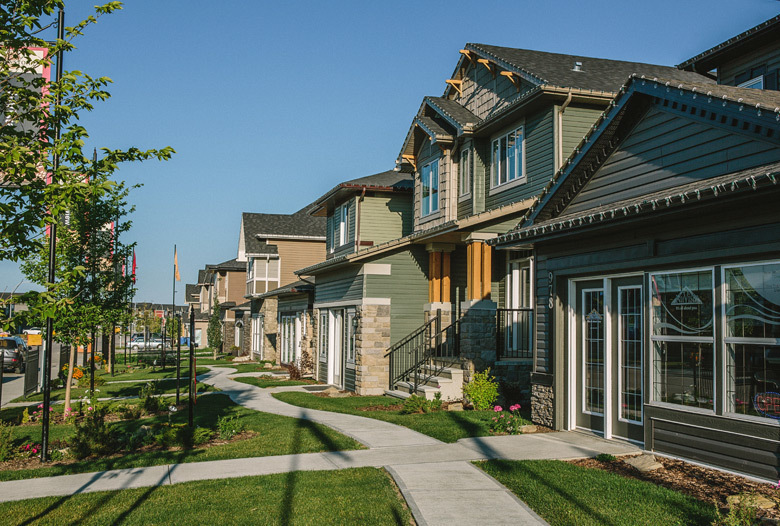 Photo: Qualico Communities