NewHomeListingService (NHLS) will help you find ALL the different types of new homes for sale in Saskatoon. Click through the properties you like and reach our directly to any builder if you would like to learn more about a new home for sale.
Saskatoon, the "city of Bridges" forms the gates to northern Saskatchewan by bordering along the South Saskatchewan River. Home to the Canadian Light Source machine, one of the most complex scientific instruments in Canada, the Wanuskewin Heritage Park celebrating indigenous and metis culture, and the Beaver Creek Conservation area. Along with the University of Saskatchewan leading in scientific and medical developments, this Canadian city continues to advance and grow with it's population of around 250,000 people. Numerous homes options are available in new and modern subdivisions created with growth and technology in mind. Surrounding the city are other growing areas such as Warman, Martensville and Dundurn.
New Homes for Sale in Saskatoon
Saskatoon is the largest city in the province of Saskatchewan located along the South Saskatchewan river and Trans-Canada Yellowhead Highway. Saskatoon was founded in 1882 as a Temperance colony and considered as the cultural and economic hub of the region at that time. The three villages that formed the original city are still recognizable. Nutana, is one of the original colony town sites, known for its street of early residences, the earliest schools and the oldest business district (Broadway Avenue).
The city is named after the Saskatoon berry and has more than eight river crossings. Saskatoon is also called by the name of "Paris of the Prairies" and the "Bridge City". Saskatoon is central Saskatchewan's great crossroads; a hub for water, rail, and highway crossings east and west, north and south.
The downtown core includes significance examples of "boomtime" and earlier buildings, the Land Titles Building, Canada Building, the CP Rail station and Third Avenue United Church. Saskatoon Downtown includes structures made of sturdy stone like the Credit Union Centre, City Hospital and TCU Place – Arts and Convention Centre.
New Homes for Sale in Saskatoon
Townhomes for Sale in Saskatoon
Home Builders in Saskatoon
Find Home Builders in Saskatoon that fits your need. We have the largest directory of Home Builders in Saskatoon. From Custom Home Builders, Single - Family Home Builders, Multi-Family Home Builders, Luxury Home Builders to Award winning Builders, you can find all the Builders on New Home Listing Service. Select the Builders you like to work with from the list, check out all the projects from that Builder and Request more information.
Find a Homebuilder in Saskatoon
Realtors in Saskatoon
Looking for a Realtor in Saskatoon? Browse from the list of all Realtors in Saskatoon and find your Realtor, select by realtor name or by the brokerage.
Home Buying Services in Saskatoon
Find home buying services in Saskatoon whether you are looking for Building Equipment, Building Materials, Contractor Services, Designers or Architects, Home & Garden, or Insurance services, New Home Listing Service has covered all that for you. Browse from the list of all service provides and choose from the type of service provider you are looking for.
Communities in Saskatoon
New Home Listing Service is here to give you information about all of the New Homes in Saskatoon and in the community that fits you. Looking for more information on your ideal community in Saskatoon? New Home Listing Service strives to give you the best and most accurate information for your new home, condominium, or townhouse needs. Find the perfect community in Edmonton.
Find the Right Community for your Family in Saskatoon
Climate and Seasons
The city is located far inland and experiences heavy variations in temperature and precipitation, the weather is always unpredictable all year around. Saskatoon has four different seasons; winter, spring, summer and autumn.
Winter generally last for five months, begins in November and ends in mid-March. The temperature in winters remains freezing cold where January and February are the coldest month. The temperature often drops below -30 degrees in winters with the maximum of -10 degrees. Saskatoon receives light snowfall as compared to other parts of Canada. However severe winter storms with heavy snowfall, strong wind gusts and reduced visibility can occur in winters.
Daylight hours are usually 8 hours/per day until late December. Saskatoon enjoys many sunny days during the winter months as the skies often remains clear. When the temperature drops below the freezing point it gets quite cold, but "January thaw" occurs thanks to the ​chinook winds from alberta that maintain the temperature warming trend in saskatoon.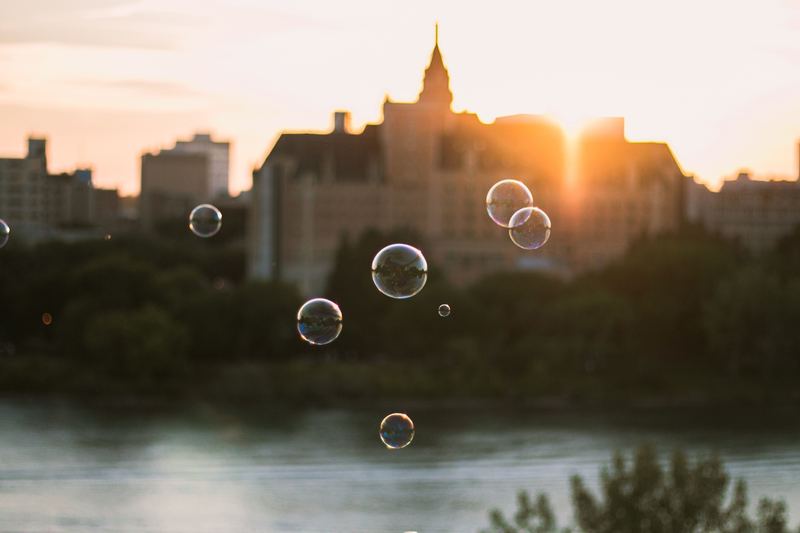 Spring starts from mid-March and ends in May. When the temperature starts rising above the freezing point, the snow begins to melt and various plants emerge from hibernation process. The weather can be very cool, cloudy and damp, where rainfall is also common. Windproof jackets, gloves, long sleeved shirts with long pants are the basic spring clothing to feel warm and cozy. Of course, when you find a really great new home you can snuggle up with your family and stay nice and warm.
Summer is considered as the most pleasant weather during the year, begins in June and lasts till September. The temperature usually remains between 20 degrees to 30 degrees. Skies remains sunny with lot of daylight hours; up to 16 hours/per day. In fact, only in Saskatchewan can you observe some of the most stellar sunsets you will see anywhere.
Autumn occurs from mid-September to late October. The temperatures start to fall below freezing which leads to change in flora as leaves on trees change colors. The autumn can also bring rainfall if its dry and snow flurries.
Cityscape and Attractions
Saskatoon offers a wide range of fun activities to do while in city. it has everything for all age groups. There are many shopping malls with great options to look around Midtown Plaza, Centre Mall, Market Mall, Mall at Lawson Heights and Confederation Mall are some of the main shopping spots.
Since 1975, Saskatoon offers the residents and visitors the best in local agricultural products, baking, prepared foods and crafts through its Farmer's Market. The Saskatoon Farmer's market is located at River Landing development and is the place to go for fresh and high-quality agricultural products.
It is very delightful to the senses and there are many special events during the year which include live music, concerts, exhibition rides and so much more - fun activities for the whole family.
Riverbank trails and parks are a major additional attraction, especially Saskatoon's River weir with its summer population of pelicans. Outside the city, Beaver Creek Conservation Area and Cranberry Flats provide nature education, while the nearby provincial parks of Pike Lake and Blackstrap with its artificial "mountain" offer traditional camping and water recreation opportunities.
Education and Technology
The city of Saskatoon has 10 radio stations of its own, including 3 TV stations. SaskTel is the city's primary telecommunications service provider and also provides internet access to the public, as well as to other Internet service providers.
The University of Saskatchewan, SIAST – Kelsey Institute, Saskatoon Public Library and associated religious colleges are the city's key educational institutions. The Centennial Auditorium serves as the city's main theatre for the performing arts. In addition to that, the university's art department also has a strong artistic influence especially through the Emma Lake Artists Workshops.
Saskatoon is experiencing significant increase towards advancement of technology and manufacturing industries. These trends are serving the province resource and agricultural sectors. Saskatoon strives to provide its residents with best health and education services, business and mining services, food processing and research. Moreover, the research centers like Innovation Place Research Park and University of Saskatchewan's Research department has significant impact on Saskatoon's economy. These centers are helping in reshaping information technology and the growing agricultural biotechnology industries.