sparrow-landing-at-larch-park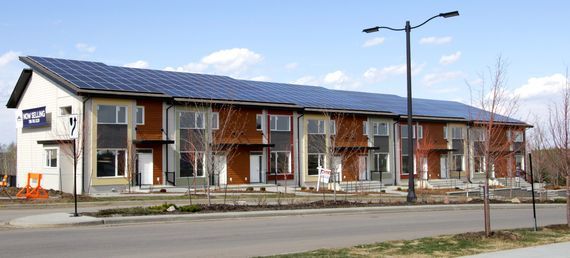 Photo: Huffingtonpost
Homes for Sale in Sparrow Landing at Larch Park, Edmonton
Sparrow Landing at Larch Park is excitingly Edmonton's first Net-Zero community and Landmark Homes is the leading driver on this idea. Net-zero homes only started being seriously considered about a decade ago but now Landmark is proposing that all their homes from 2015 will be built in this fashion.
The concept involves a streamline process for producing homes that dramatically reduces waste, increases efficiency, and reduces carbon pollution by 10-12 tonnes for every home they build. This process is referred to ass panelization, which is where you build the walls and other building components in a controlled environment and then assemble on site. As well, they go further with improving the energy performance of all aspects in the home. The products include Energy Star appliances, compact fluorescent and LED bulbs, programmable thermostats, and high efficiency water heaters. All of these details are helping the homes to get a new standard home specification up Energuide 82-83.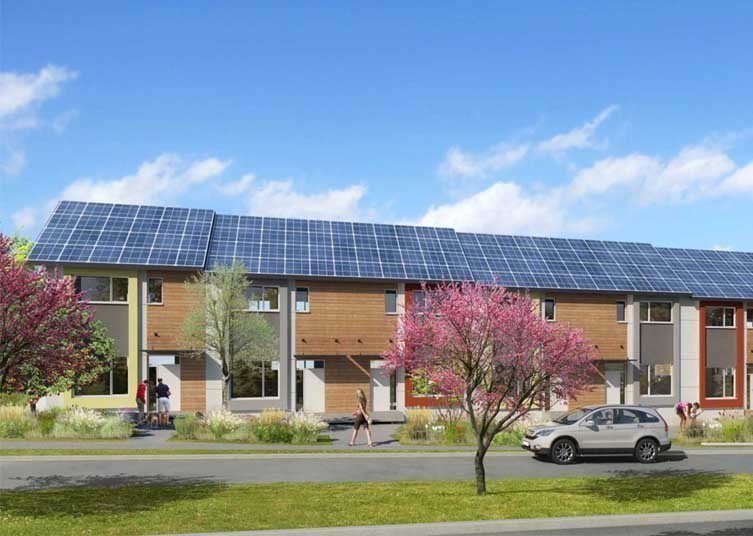 Photo: NHLS Listing
What makes Sparrow Landing so unique and wonderful is the fact that your townhome is able to produce as much energy as it consumes. There are solar panels constructed as part of the townhome complex and provide an energy reserve to last through the winter months. You save on your energy bills immensely with these innovative home solutions. The community is conveniently placed nearby shopping complexes, walking trails, Whitemud Drive, and Anthony Henday Drive.
Better yet, you are located right across form the Larch Park Sanctuary. Larch Park is located on the Whitemud Ravine and runs along a natural ridge. It offers breathtaking views of downtown Edmonton. It is an environmentally sensitive community that offers homes and builders whom are conscious of the importance in sustainability. Having the residential communities around this stunning area is important for the consideration of preservation. The community planning incorporates the LEED environmental design principles and every home intends to achieve the highest standards.

Photo: Perryhomes
New Houses for Sale in Sparrow Landing at Larch Park