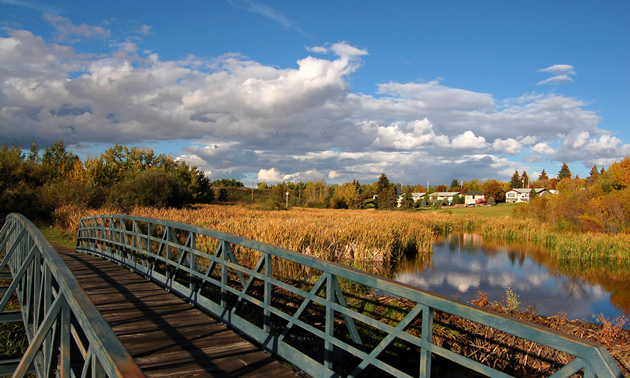 NewHomeListingService (NHLS) will help you find ALL of the different types of new houses for sale in Camrose. Click through the properties you like and reach our directly to any builder if you'd like to learn more about a new home for sale.
Camrose is a wonderful rural city located southeast of Edmonton. It is home to multiple public parks, abundant parklands and the well-known wild roses. Nature enthusiasts can enjoy the lure of swans at Mirror Lake Park located at the heart of the city. The swans swim along the calm water and create a sense of peaceful living. During the warmer summer months, the Camrose Golf Course attracts golfers with the park setting and challenging pin placement. In the winter season, the Aspen Heights Ski & Snowboarding Area is a popular family destination for those who like to hit the slopes.
Accessibility is great in Camrose where five transportation routes and two railways serve the residential and industrial needs. With a constant 2.3% growth for 4 consecutive years, this city is bound to see new developments and opportunities. The city boasts quality health care with its new modern hospital built with several medical specialists. Education also serves Camrose well with the University of Lethbridge Augustana Campus located here. Augustana students can tap on the resources of the main Edmonton campus for international scholarships and study opportunities. (Photo: Rvwest)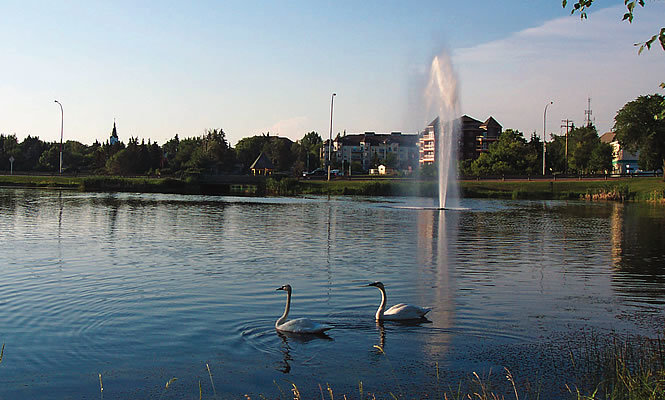 Why Camrose is a Great City
History - The City of Camrose began originally as the Hamlet of Sparling, named after the Reverend Dr. Sparling of Winnipeg, Manitoba. It was incorporated as the Village of Sparling on May 4, 1905. Because the name Sparling was often confused with the Towns of Sparling in Western Canada, the Village Council, changed the name to Camrose in 1906. Aftewards, Camrose was incorporated from a town into a city on January 1, 1955.
Large Entertainment – Camrose is home of the Big Valley Jamboree, Canada's largest outdoor country and western festival. As well, the Jaywalkers' Jamboree is also an exciting event.
Arts and Culture – There is a leading quality arts facility called Lougheed Performing Arts Centre, which incorporates some great talents such as ballet and themed dance.
Great Recreation – Rudy Swanson Recreation Park is conveniently located in the centre of the community where residents can participate in many leisure activities. It is near several schools, which makes it easy to coordinate with daily schedules. It is home to several outdoor facilities such as Kin Park Ball Diamonds, soccer pitches, tennis courts, basketball courts, and beach volleyball. To continue the outdoor fun there is shale walking trail, water spray park, and a concrete skateboard park. Additionally, there are three indoor arenas, aquatic centre, indoor running/walking track, indoor soccer field, and sports performance centre, which allow for great all year round involvement by the community.
Protection Services - Camrose has its own first class police service, a well equipped fire department and a 24-hour ambulance service making Camrose: one of the safest cities in Canada.
Camrose and District Centennial Museum – Those eager to explore Camrose's history can visit the displays that outline the previous town's early days.