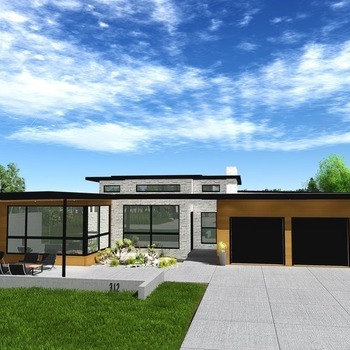 The Dillon
440 1st Ave N, Saskatoon, SK, Canada, S7K 1X6
Features:
Main - 3268 sq.ft.
Basement - 2429 sq.ft.
Garage - 801 sq.ft.
The journey of building your dream home can be overwhelming.  By the time you finish listening to all the horror stories of family and friends who embarked on their own adventure, you're ready to give up on the dream before it even began.  
Your story can be different (just like those "write your own ending" books when you were a kid!).  Why do you think all those other builds went over budget, took way longer than promised, and were filled with stressful rushed decisions?
There wasn't a detailed plan in place.
It's easy to get overwhelmed. Relax, don't worry. At Haven, we want you to enjoy the experience. We've prepared every step for you, all under our own roof. Our unique approach allows you to enjoy the custom home experience without the stress and hours of invested time. It enables you to start your project sooner, and shorten your completion time as well. Overall, the process is easier and more enjoyable.
Contact us to learn more about our approach
| | |
| --- | --- |
| Number Of Floors: | 1.0 |
| Total Finished Area: | 3268 sq ft (304 m2) |
| | |
| --- | --- |
| Bedrooms: | 3 |
| Above Grade: | 3 |
| Full Bathrooms: | 3 |
| Half Bathrooms: | 1 |
| Full Ensuite Bathrooms: | 3 |
| | |
| --- | --- |
| Parking: | Triple Garage Attached |
All builder members of the NHWP register all their eligible units which consists of all for sale housing of the following type: single family houses, semi-detached homes, townhomes and low-rise buildings up to four stories. Ready-to-move homes (RTM's) are also covered, excluding the foundation and any other work below the first floor joist, unless that work is included in the RTM builder's construction agreement.
Deposit Protection
For all houses registered after January 1st, 2008, the initial deposit for the purchase of your new home is protected up to a maximum of $25,000 in the event the deposit becomes legally refundable and cannot be recovered because of bankruptcy, default, insolvency or fraud on the part of the builder. It does not cover reimbursement because of a contract dispute between the parties.
Workmanship & Materials Protection (1 Yr*)
All registered builders are required to warrant that the house is constructed in accordance with the building standards prescribed by the Province of Saskatchewan and the New Home Warranty "Construction Performance Standards" that the house is free from defects in workmanship and materials for a period of one year from the date of possession.
Water Leaks Protection (2 Yrs*)
Registered builders warrant that the building envelope (roof, exterior cladding, windows and doors) and the basement foundation walls will be free of exterior water penetration for two years from original occupancy.
Major Structural Defects Protection (5 Yrs*)
All registered builders warrant that your home will be protected against Major Structural Defects for five years from the date of possession. Major Structural Defects mean defects in workmanship or material which have or are likely to have an adverse effect on the performance of the load-bearing portion of the home such as footings, piles, basement walls, beams, floor joists, teleposts, load bearing walls, and roof trusses.
Major Structural Defects (Extended Option)
An optional 5-year Extended Major Structural Defect Warranty is available for eligible single family houses enrolled after 1992. This would protect your home against major structural defects from the sixth year to the tenth year. The maximum protection would be $20,000 for all houses enrolled by the builder before January 1st, 1998, and $50,000 for all houses enrolled by the builder on or after January 1st, 1998, and $75,000 for all houses registered on or after January 1st, 2008. (Note: Extended warranty coverage is not available on condominium units).