Quick and easy commutes make this a great neighborhood to call home
Findlay Creek is a rare family-friendly gem located off Bank Street just south of Leitrim Road in Ottawa's south end. Established in the early 2000s the community enjoys larger property sizes and wide streets. Several parks dot the area featuring children's play areas, skateboard park, water fountains, splash pad and hockey arena in the winter.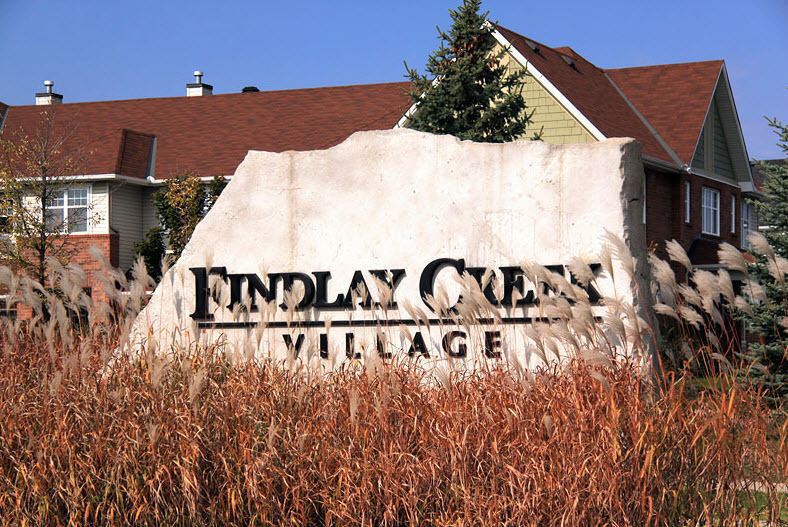 Minutes to major amenities
Findlay Creek is a five minute drive south of the shopping and transit hubs at Bank and Hunt Club and just a 30 minute drive to Ottawa's downtown core. The area around Findlay Creek is well served by major amenities including drug stores, major retailers such as Canadian Tire, a variety of restaurants, banks, car dealerships and the Sawmill Creek Pool and Community Centre.
Findlay Creek enjoys a new school which opened for classes in September 2017. Vimy Ridge Public School offers kindergarten to Grade 8 for 600 to 800 students. The school offers dual-track English and early French immersion programs and a purpose-built daycare space. Vimy Ridge is the first of two planned elementary schools to serve this growing community.
Protected conservation area for walks
While close to everything, Findlay Creek is a unique community close to the South Nation Conservation area and Findlay Creek Boardwalk. Families can stroll along a 500 metre boardwalk, identify native bird species from a bird watching platform and enjoy the Provincially Significant Leitrim Wetland.
Active community association
A Community Association established in 2005 is proud to be active and involved in the community and is well known to homeowners and builders. The association is made up of Findlay Creek residents who volunteer their time and work with builders to ensure a wonderful community worth living in. The Findlay Creek Community Association is currently lobbying the City to improve bike path connections to make biking safe for all ages.
A place to call home
New homes in Findlay Creek include single family homes, semi-detached homes, townhomes, and small condo buildings. A great place to call home.
Find New Homes, Condos, Semi - Detach homes in Findlay Creek