A vibrant resort style development built around an award-winning golf course and just 30 minutes from Ottawa
eQuinelle, also known simply as eQ Homes, is a new master-planned lifestyle community in the quaint town of Kemptville. eQuinelle borders the Rideau River about 40 kilometers south of Ottawa, and quickly accessed via Hwy 416. A wide range of award winning housing types are available including two-storey singles, bungalows and bungalow townhomes. A total of 1,100 to 1,200 homes are planned over 400 acres.
Award winning golf course provides a main hub
Built around the Ottawa area's most awarded public golf course, eQ Homes offers a four-season recreational lifestyle that is second to none. The golf course includes a stunning 20,000 sq. ft., state-of-the-art Clubhouse, designed by award winning architect Barry Hobin, provides a central hub for the eQuinelle community. Amenities available to golfers and residents alike include a library, card games, arts and crafts, billiard rooms, lounge, and an outdoor pool. During the winter months, the golf course is available for cross country skiing. Casual dining at the Lounge overlooking the championship golf course can be enjoyed year round.
Small town country charm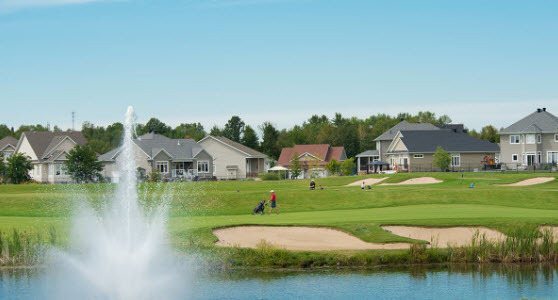 Kemptville has enjoyed steady growth over the past decade and now has a population of roughly 4,000. On the town's outskirts eQ homeowners will find a Walmart, Bulk Barn, Staples, LCBO, gym and other big box stores. A short drive into the heart of old Kemptville is Clothier Street. Against the backdrop of the scenic Rideau River are an assortment of little boutique shops, restaurants and quaint mum and pop shops all radiating old world, small town charm.
Outdoor living is a central design theme
The Rideau River is a prominent natural feature of the eQuinelle location and provides superb opportunities for canoeing, kayaking, paddle boarding, boating, wind surfing, fishing or a simple walk along a shore trail. Nature pathways with Fit Benches crisscross the development.
Off the beaten track but close to everything
eQuinelle appeals to a broad range of homeowners including retirees, downsizers, young families, and anyone drawn to the simplicity of a natural environment and desiring an active lifestyle. Close to amenities yet tucked away off the beaten track eQuinelle is the perfect haven to call home.