Surrounded by nature with many new home buying options in Ottawa's booming east-end
Avalon is a fast growing neighborhood located in Orléans, a suburb in the east of Ottawa, and 15 minutes to downtown. Avalon offers fantastic opportunities for first time home buyers, young couples, individuals looking to downsize, and anyone looking for affordable home options in Ottawa's thriving east end.
Major builders including Minto and Mattamy offer a wide range of exciting new homes in Avalon including Single Family Homes, Townhomes, Condos, and Infusion Terrace Homes.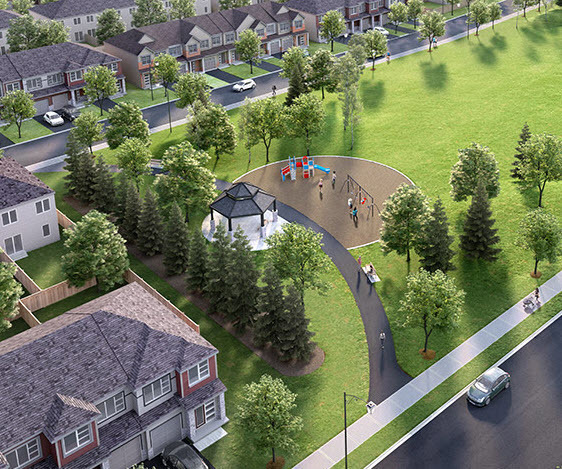 Surrounded by shopping options
Many great shopping options are located under 10 kms from Avalon new homes. These include Place d' Orléans with over 180 brand name retailers and a brief five minute drive. Avalon Centre is an easy walk or quick drive that includes Farm Boy, the Barley Mow Gastro Pub, dry cleaning services, pediatric and general dentistry, chiropractic and massage services, and many others. Orléans Sobeys and a Superstore are also minutes away ensuring ample grocery options for Avalon homes. RioCan Orléans at the intersection of Innes and 10th Line also offers 21 retail units including Petculture, Metro, Staples, The Home Depot, and JYSK.
Elementary and Secondary Schools close at hand
Avalon is close to many well-ranked public, Catholic and French schools giving families several education options.
Recreation facilities and pet-friendly greenspaces
Aquaview Park is in the heart of Avalon offering the community a great mix of recreation, biking, and walking options. Other greenspaces are located throughout Avalon including Vista Park, Ouellette Park, and Henri-Rocque Park. The famous Mer Bleue Conservation Area, less than 10 minutes from Avalon, is a protected area with a 1.2 km looping interpretative boardwalk.
Well served with public transportation
Avalon commuters can hop a bus at major stops or stations at 10 Line and Place d'Orléans. The City is now planning a Bus Rapid Transit route to meet the growing transit needs of east end commuters. The City has also agreed to the second stage of Ottawa's light rail project which will extend the Confederation Line to Trim Road. OC Transpo currently provides service to high schools and middle schools on regular routes.