---
Terra Brook Homes Inc.
Concord, Ontario
At Terra Brook Homes, we believe our customer should enjoy the greatest level of service from the time they step into the Sales Center to years after moving into their Terra Brook home. Our commitment to the highest level of personal attention, service and quality, has made our name synonymous with a great home to purchase.
We believe that homebuilders should infuse the homes they build with the personalities of their owners. So Terra Brook also offers buyers the ability to customize their new homes by choosing from numerous extraordinary decorative options. That's why a Terra Brook home community looks and feels distinctly unique… attention to detail, quality, workmanship and beautiful designs, awards Terra Brook homeowners with a genuine sense of pride.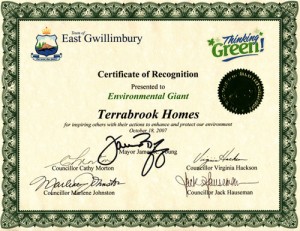 Terra Brook Homes is proud to be a part of the "Think Green" program. This program is committed to conserving the environment, minimizing impact on our community, and enhancing overall health and lifestyle for "Greener Living".
Claim this Builder Profile

Loading 7 listings...