Encore Master Builder Inc.
---
Encore Master Builder Inc.
Edmonton, Alberta
OUR CORPORATE HISTORY
Encore Homes Ltd. was incorporated in Edmonton on Jan. 16, 1985 under the Alberta Business Corporations Act. During the past 34 years, Encore has achieved a great deal of recognition as a reputable Alberta Home Builder, and in the process has constructed and sold more than 1,800 homes in Edmonton and the surrounding communities.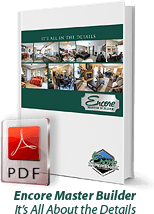 At Encore Master Builder, we believe our homes should enhance the streetscape and enrich the lives of the people who reside within them. Putting this philosophy into practice has brought us awards, honours, and most importantly, satisfied customers.
We strongly believe your new home should reflect your unique personality, tastes, and lifestyle. Your new home should be the realization of a dream come true.
We pledge to be worthy of the trust you place in us when you choose Encore Master Builder to construct your new home. We pledge to live by our principles of honesty, integrity, and fair business practices.
Claim this Builder Profile

Loading 40 listings...