Home Owner Mark of Excellence Awards™
The Home Owner Mark of Excellence Awards™ is an annual competition that symbolizes excellence in the home ownership experience. Founded in 2010 by CustomerInsight, the H.O.M.E. Awards are sought after by builders across Canada and the United States. Winners of these awards are builders who strive to not only build beautiful homes for their customers, but to ensure the best possible experience every step of the way. The Awards are named after those who matter most, the Homeowners.
AWARD CATEGORIES
Each year, CustomerInsight spotlights single family and multi-family home builders and trade/supply partners in both Canada and the United States for excellence in customer, trade and employee satisfaction. H.O.M.E. Awards are based solely on the voice of the customer and are verified by our Statistician and Research Analysts.

BEST CUSTOMER EXPERIENCE
Granted to those builders with the highest overall customer satisfaction in their area as voted by homeowners.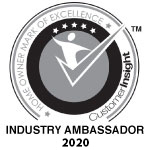 INDUSTRY AMBASSADOR OF THE YEAR
Outstanding individual who has made a remarkable contribution to improve the perceptions people have of the residential homebuilding industry by demonstrating leadership and initiative in the areas of customer experience.

BEST TRADE / SUPPLY PARTNER
Awarded to trade partners who stand out from the rest based on their performance, quality of workmanship, reliability and customer service.

BUILDER OF CHOICE
Awarded to builders achieving superior results for customer satisfaction, employee satisfaction and trade satisfaction
THE VALUE OF A H.O.M.E AWARD
Optimum Benchmarking : Showcases that your company's work and/or its professionals are standard-setting.

Builds Credibility : Demonstrates the strength of your company, validating the quality, workmanship, and service delivery position with prospective clients.

Adds Value : Exhibits the value you have brought to homeowners and, in this metric-conscious world, there is little better than an award based on the Voice of the Customer.

Builds Industry Reputation : Regional and National recognition of being customer-centric and attaining great customer experience results.

Helps to Increase Sales : Gives prospects another reason to trust your business. 84% of new home buyers agree they are willing to select builders and pay more for great customer experience.

Motivates Staff : Boosts your employees' morale and attracts qualified candidates to your business.