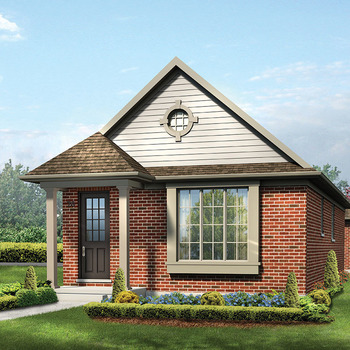 New 2 bedroom, 1.5 bath Residential Detached - Port hope in the Lakeside Village Community.
Residential Detached, Bungalow
| | |
| --- | --- |
| NHLS ID: | #654725 |
| Model Name: | The Applewood - Port Hope |
| Starting From: | $597,900 |
| Builder: | Mason Homes |
| Communities: | Lakeside Village |
| Type: | Single Family |
| Build: | New Build |
FEATURES & FINISHES
ENERGY STAR® FEATURES
1. ENERGY STAR qualified high efficiency gas heating system c/w digital thermostat 95% efficiency AFUE.
2. ENERGY STAR nominal R-60 blown-in attic insulation.
3. R-31 blown-in insulation for vaulted ceilings with no access to attic.
4. Nominal R-24 blown-in blanket system (BIBS) ENERGY STAR qualified insulation in exterior studded walls above grade.
5. ENERGY STAR nominal R-20 "full-height" basement insulation (6" off basement floor), on exterior walls only.
6. Nominal ENERGY STAR R-31 blown-in insulation in garage ceilings, where applicable.
7. Foam insulation and tape around exterior doors and windows.
8. Solar ready conduit rough-in from attic to mechanical room.
9. Integrated Heat Recovery Ventilation (HRV) system, with supplementary ENERGY STAR exhaust fans as required.
10. Energy efficient air conditioning system.
11. Air tight self-sealing electrical boxes.
12. ENERGY STAR qualified "low E" argon gas, triple glazed insulated windows, with insulated spacers. Vinyl maintenance-free windows on side, front and rear elevations. Operable windows and sliding doors c/w screens and locks.*
13. ENERGY STAR qualified "low E" argon gas double pane insulated vinyl exterior 6' or 8' sliding glass doors. *
14. ENERGY STAR rated exhaust fans.
15. All light bulbs are Energy Star qualified lights.
16. Copper drain water heat recovery pipe.
CHARMING EXTERIOR DETAILS
17. Large complimentary lifestyle porches.*
18. Professionally selected exterior colour themes to choose from.
19. Architecturally designed windows on all elevations, making your home bright and creating an attractive streetscape.
20. Corner lot homes are architecturally designed to enhance streetscape appearance.
21. Exteriors may include a combination of some or all of the following: concrete, stone, clay brick, low maintenance vinyl siding, fibre cement board and decorative architectural features, as per plan. Railings will be installed at side and rear doors (where required by grading conditions and OBC requirements).*
22. Aluminum soffit, fascia, eaves and downspouts.
23. Architecturally enhanced, double-layer laminate shingles.
24. Recessed exterior pot lighting in front porch ceiling. Recessed exterior pot lighting in soffit over garage.*
25. Front or rear driveway (as per house type) surfaced with gravel, front or rear Municipal aprons to be asphalt.
26. Lot and boulevard graded and sodded.
27. Concrete porch with pre-cast concrete steps at front and side entrances. Rear entrance with pre-cast steps or railing, as per grade and OBC requirements.
28. Decorative street numbers, exterior paints and stains, where applicable.
29. Fibreglass front entry doors with dent resistant finish and sealed window inserts, as per plan. Insulated foam core increases the insulating value compared to that of a wood door. Decorative satin nickel grip set and deadbolt for front door.
30. Brick soldier coursing, stone window sills, keystones, other masonry details and decorative shutters for windows where applicable.*
QUALITY CONSTRUCTION
31. Engineered flooring system "I" joists on first and second floors, which creates an open basement with minimal posts.
32. Engineered sub-floors with 5/8" tongue and groove or better OSB sub-flooring, sanded, glued and screwed. 33. Pre-engineered roof trusses.
34. Optimal value engineered 2" x 6" exterior wall construction with dimensional or finger-joint studs, as per plan and Builder's discretion.
35. 2" x 4" interior walls are used in most areas. Optimal value engineered 2" x 6" interior walls where necessary to accommodate structural, vents, plumbing waste pipes and stacks and heating ducts. 2" x 4" load bearing basement interior walls.*
36. (+/-) 9' interior ceilings on main floor with (+/-) 8' second floor ceilings. (Except in sunken or raised areas, stairways and where there are raised, dropped or cathedral ceilings).*
37. Resilient channel drywall ceiling application to lessen sound transmission and ensure a better drywall finish.
38. Exterior house wrap air barrier system.
INTERIOR FINISHES
39. Interior passage doors, pocket doors and closet doors.*
40. Brushed nickel lever interior door hardware, with privacy sets on all bathroom doors.
41. 2-3/4" window casing and 4-1/4" baseboard with shoe mold to tile or hardwood floors, throughout finished areas.*
42. Clear varnished oak wooden pickets for all overlooks and stairways.*+
43. Smooth drywall ceilings throughout.
44. Oak veneer stairs with oak hand rail, pickets, and nosing in natural finish/clear varnish to finished areas.*+
45. Ventilated closet wire shelving. Double hanging closet, with shelf in a portion of the master bedroom walk-in closet.*
46. Swing front entry closet doors.*
47. All columns in finished areas are drywalled, unless specified on plan.
48. Drywall rounded corner beads where applicable (square corners substituted at Builder's discretion).
49. Low VOC paint on interior walls and ceilings, low VOC semi-gloss on trim and doors.
50. As much as possible, low VOC adhesives, caulks and sealants will be utilized.
51. Interior low VOC base paint colour (1 colour throughout home); interior doors and trim painted white.+
KITCHEN FEATURES
52. Generous selection of quality cabinetry from Vendor's select Level 1 samples with valance box and soft-close hinges and glides.
53. Granite kitchen countertop with 2cm modern standard square edge, choice of colours from Vendor's value group samples with undermount double stainless steel sink and with single lever pull-out faucet. Flush granite breakfast bar with 2cm modern standard square edge, choice of colours from Vendor's value group samples.*+
54. Rough-in plumbing, stubbed at sink and electrical c/w cabinet space for future dishwasher. Hook up not included.
55. Stainless steel 2 speed kitchen exhaust fan vented to exterior.
BATHROOM FINISHES
56. Acrylic shower base with ceramic tile wall and tempered frameless glass door.*
57. Grab-bar rough-in, as per Ontario Building Code.
58. Vanities in main and ensuite washrooms with laminate countertop.+
59. Pedestal sink in powder room.*
60. Water efficient faucets, showerheads, and low consumption toilets.
FLOORING
61. Ceramic floor tiles with low VOC grout in tiled area. *+
62. Choice of 12" x 12" or 13" x 13" ceramic floor tiles (applies to floor tile in tiled areas as per plan).*+
63. Plush carpeting c/w low VOC underpad in balance of finished areas.+
WATER SAVING PLUMBING
64. Acrylic tub and ceramic tile enclosure to ceiling w/ water resistant drywall, c/w single lever pressure balance faucet, water efficient showerhead and shower curtain rod.
65. Acrylic shower base with ceramic tile walls and tempered frameless glass shower door.*
66. White oval vanity sinks c/w water efficient single lever faucet and pop-up drain.
67. Shut off valves at all sinks and toilets.
68. 2 exterior hose bibs: 1 in front and 1 at rear (1 of these two will be in garage as per model).
69. ENERGY STAR qualified rental gas hot water heater.
70. Sealed sump pump, as per municipality, as required.
71. Back flow preventer installed on the sanitary line.
ELECTRICAL
72. 200 amps electrical service with circuit breakers, conduit, panelboard, and electrical outlet box for future installation for electric vehicle (EV) supply equipment.
73. 220-volt outlet for stove and dryer.
74. 2 weatherproof exterior electrical outlets, one each at front and rear of home.
75. Outlets in bathrooms and kitchen countertops on ground fault interruption (GFI) circuits.
76. Smoke detector with electrical connection on all floors and all bedrooms.
77. Carbon monoxide detector on every floor.
78. Ceiling light fixtures in finished areas. Wall mounted in bathroom(s) and powder room.
79. "Rhythm" collection light fixtures throughout home. All lights c/w energy efficient light bulbs.
80. White Decora switches and receptacles throughout the home.
81. Wall receptacle ceiling light, plus ceiling plug, in garage.*
82. 2 telephone and 2 cable jacks roughed-in (1 in family room or great room and 1 in the master bedroom).
83. Basement 3-way lighting connected to wall switch.
84. Electrical door chime at front entryway.
85. Rough-in central vacuum to basement.
LAUNDRY ROOM FINISHES
86. Conveniently located main floor or second floor laundry.*
87. Dryer vent ducted to exterior (w/ exterior cover).
88. Hot and cold water supply and grey water discharge pipe in main floor laundry area only, built into wall housing.*
BASEMENT FINISHES
89. Concrete basement walls with damp-proofing, weeping tiles, and exterior drainage membrane.
90. Basement window wells may be required according to grade.
91. Basement exterior walls with R-20 insulation full height to approximately 6" above basement slab on exterior walls only.
92. 32" x 24" basement vinyl windows, with egress window, location as per plan and/or per Builder's discretion. Some basement windows may be larger as per site plan grading.
93. Three-piece rough-in for optional basement bathroom.*
YOUR GARAGE
94. 1 or 2 car garage, with hose bib and additional electrical outlet on inside wall.
95. Automatic garage door opener (1 per house with 1 transmitter).
96. Wall receptacle, ceiling light plus ceiling plug in garage.*
FOR YOUR PEACE OF MIND
97. Property survey prepared by an Ontario Land Surveyor provided on closing.
98. All homes are backed by "Tarion". Mason Homes is a registered member of Tarion in good standing and shall comply with all warranty requirements.
i. 7 Years – Major structural
ii. 2 Years – Plumbing, heating, electrical systems, and building envelope
iii. 1 Year – Builder comprehensive warranty
99. All homes are independently tested for Energy Star Certification. Save up to 20% on your energy costs.
| | |
| --- | --- |
| Number Of Floors: | 1 |
| Total Finished Area: | 1090 sq ft (101 m2) |
| | |
| --- | --- |
| Bedrooms: | 2 |
| Full Bathrooms: | 1 |
| Half Bathrooms: | 1 |
| Other Rooms: | Formal Dining Room, Kitchen, Laundry Room, Living Room, Loft, Mud Room, and Recreational Room |
| | |
| --- | --- |
| Parking: | Double Garage Attached |
The Applewood - Port Hope
×