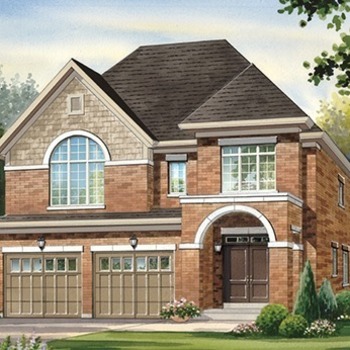 New 4 bedroom, 3.5 bath Residential Detached - Lincoln in the Beamsville Community.
Residential Detached, 2 Storey
Rich in history and located on the Niagara Peninsula, the charming town of Beamsville is an Ontario treasure. This winemaking region is known for its sophisticated way of life, focused on great food, delicious wine and breathtaking vineyard vistas. With a vibrant community culture, and quick access to the Greater Golden Horseshoe, Beamsville is becoming the ideal location for growing families.
Founded in 1788, Beamsville was established by Jacob Beam, for whom the town is named. He was a United Empire Loyalist and arrived in the Niagara Region with his family after the American Revolutionary War. Mr. Beam's homes, circa 1790s, still exist and are part of the region's rich colonial heritage.
Today, the Niagara Peninsula is home to world-class wineries that have transformed the Beamsville Bench and the whole Niagara Peninsula into one of the world's great vinicultural regions and in the process have nurtured a lifestyle unlike any other in the country.
Practical and unique, Beamsville is a hometown like no other. With its wineries, cozy country inns, restaurants and of course, the friendly residents who have called Beamsville home for centuries, the Greater Golden Horseshoe is a place you want to call home.
PROPERTY FEATURES & FINISHES
Quality Construsction and Exteriors
Victorian Classic and Edwardian inspired architecture.
Featuring wood framing and steel beam construction with genuine clay brick and/or precast stone, stone details, key stones, decorative frieze board, masonry soldier coursing, and/or board and batten or horizontal vinyl siding and/ or other unique architectural applications as per applicable elevation styles and models. Colour schemes are selected by architect.
All elevations are subject to architectural and colour control to ensure a truly harmonious and integrated streetscape.
Covered front porches or porticos or architectural entry details with poured concrete porch slab in applicable models. Aluminum Railings only where grade requires.
All windows are Energy Star® Certified Low e/argon, semi maintenance free white vinyl casement (fixed and operating).
Maintenance free white vinyl thermal pane in lower level (as per applicable plan).
Manor style metal insulated front doors with glass door lights (as per applicable models).
Quality satin nickel front door grip sets with security dead bolt.
Decorative address plaque (as per applicable models).
All sub-floors are tongue and groove sheathing with sanded joints. Floors are glued and fastened with screws.
Exterior sliding patio door to rear yard (as per applicable models).
Maintenance free aluminum fascia, eavestrough and downspouts in architecturally selected colour schemes.
Self-sealing high grade shingles with manufacturer's 25 year limited warranty in architecturally controlled colours.
Raised sectional "Clad Panel" garage door(s) with decorative garage door light(s), (as per applicable models).
All exterior doors and windows are fully caulked for superior energy conservation and draft prevention.
Garage access door to interior (as per plan and as grade permits). Location of doors may vary to accommodate actual grade conditions.
Floors (as per applicable models) may be sunken to accommodate entry door from garage where grade conditions require and/or permit.
Weather stripping and screens on all operable windows, including lower level.
Two exterior water taps, one at garage and one at rear. Two exterior waterproof electrical outlets, one at front and one at rear.
Patterned precast concrete slabs to exterior door landings complete with precast step(s) (as per applicable models).
Poured concrete lower level walls, with dam-proofing drainage membrane complete with weeping tiles to prevent water penetration.
Reinforced concrete garage floor with grade beams.
The home is fully insulated with the use of either fiberglass or mineral wool and energy efficient spray foam insulation where required and in accordance with The Ontario Building Code Specifications. Spray foam insulation is used to seal all windows and doors to prevent air infiltration.
The finishing touches of a fully graded and sodded lot in accordance to the requirements set out by the municipality.
Driveway and apron to be paved in a two-step process with base coat of asphalt followed by a final coat to be completed not before the first summer following the full winter.
Garage walls and ceilings of habitable areas are drywalled and taped (concrete and block areas excluded, drywall not sanded or painted).
Innovative Luxurious Interiors
9' ceilings on main level, 8' ceilings on upper level except in sunken or raised areas, stairways and where there are raised, dropped or cathedral ceilings.
Interior door hardware lever type in Satin Nickel.
Master ensuite, powder room and bathroom doors include privacy locks.
Contemporary design 2-3/4" casing with 4" baseboard complete with smooth 2 panel interior doors.
All interior walls are fully decorated in a choice of 1 colour throughout from builder's standard colour selections. All paints used are latex finish. All interior doors and trim to be painted white semi-gloss.
Smooth ceilings in kitchen, powder room, laundry room and all bathrooms. Sprayed stipple ceiling with +/- 4" smooth border in all other rooms and areas.
Elegant carpeted staircases throughout (as per applicable models). Oak handrail and your choice of Colonial or Contemporary style 1 5/16" oak pickets, in natural finish with sealer and clear semi-gloss urethane.
Purchaser's choice of one colour of quality 40oz. broadloom with cushion underpad to all carpeted areas.
Quality imported ceramic tiles (12"x12" or 13"x13") in foyer, powder room, kitchen, breakfast room, all bathrooms and laundry room (as per applicable models).
Wire closet shelving installed in all closets.
Captivating Gourmet Kitchen 
Beautiful gourmet style kitchen designs.
Quality kitchen cabinetry in a selection of door styles and wood types with post formed laminate countertops (as per builder's samples).
White two-speed exterior vented hood fan over stove.
Extended height upper cabinets and one (1) bank of drawers.
Double stainless steel ledge back sink with single lever pull out spray washerless faucet.
Open under-counter space for dishwasher, rough-in for electrical and plumbing also included.
Spacious islands with flush breakfast bar (as per applicable models).
Servery with base and upper cabinets and/or pantry (as per applicable models).
Shut off valves to faucet.
Heavy duty wiring and 220 volt outlet for stove.
Electric outlet for small appliances at counter level.
Beatiful Bathrooms
Quality bathroom vanities in a variety of door styles and
Choice of 12"x12" or 13"x13" imported ceramic tile flooring and choice of 8"x10" imported ceramic wall tiles in shower and tub enclosures (as per builder's samples). Master Ensuites with separate tub to have matching 12"x12" or 13"x13" floor tile on tub skirt, deck and one row in height surrounding tub, (as per applicable models and builder's samples).
White bathroom fixtures in all bathroom.
Master Ensuite stand up shower features a chrome trim separate glass shower enclosure with door, water proof light and threshold. Ceramic tile on walls and ceiling with semiwhite mosaic type ceramic flooring.
Water resistant back board used on all shower and tub enclosure walls.
White ceramic accessories including towel bar, toilet tissue roll and shower soap dish in all bathrooms.
Water saving toilets and low flow aerators on taps and shower heads.
Posi-temp pressure balanced tub and shower faucets.
Elegant white pedestal sink and toilet in powder room.
Over vanity mirrors with strip light fixtures in all bathrooms.
Exhaust fans in all bathrooms.
Modern washer-less single lever faucets to all bathroom basins and pedestal sink.
Shut off valve to all faucets.
Acrylic soaker tubs in bathrooms (as per applicable models).
Laundry Room
Quality white laundry base tub cabinet (as per applicable models).
Separate electrical outlets for washer and dryer.
Single basin acrylic laundry tub in laundry room.
Hot and cold laundry shut off valve at sink taps for washer.
Heavy-duty wiring and outside venting for dryer.
Choice of 12"x12" or 13"x13" imported ceramic tile flooring (as per builder's samples).
Mechanical, Electrical and Natural Gas Components
Forced air natural gas heating with high efficiency furnace and electronic ignition.
Heat Recovery Ventilator (HRV), basic installation.
Energy saving Night Setback Thermostat centrally located on main floor.
Ducting sized for future air conditioning.
Drum style humidifier to assist with balancing humidity levels.
High efficiency gas operated power vented hot water tank supplied on a rental basis. (Purchaser to sign rental agreement prior to possession).
100 amp electrical service breaker panel with copper wiring throughout.
Standard light fixtures provided throughout (except living and dining room).
Switch controlled receptacle in living room and capped outlet in dining room (as per applicable models).
Automated smoke and carbon monoxide detectors (as per Ontario Building Code).
Electric door chimes at front door.
Electrical outlet and light in garage.
Electrical ceiling outlet for future garage door opener onseparate circuit.
Plastic water pipes and ABS drains.
Rough-in security system and rough-in central vacuum.
White Decora light switches and electrical outlets throughout.
Electrical receptacle with integrated USB port in kitchen.
Ground fault interceptor protection in all bathrooms and powder room.
Cable -ready for cable service including:
Pre-wiring for television cable (3 outlets).
Pre-wiring for telephone jacks (3 outlets).
Pre-wiring for two (2) cat 5-computer.
General Features & Warranties
Cachet Estate Homes has been building homes of the highest quality for over 30 years, and offers a complete customer service program.
The Tarion Warranty Program offers:
__i. Seven (7) Year protection on structural defects*
__ii. Two (2) Year protection on mechanicals and materials including electrical, plumbing, heating and distribution __systems, all exterior cladding, windows and doors*
__iii. One (1) Year protection on workmanship and material defects*
Cachet Estate Homes shall provide all warranties offered by its reputable component suppliers for roofing, hardware, electrical, plumbing, heating, cooling and mechanical systems, including other key elements, as applicable.
The Purchaser acknowledges that any features, materials or decorations contained in Cachet's sales office, marketing materials, artist renderings or model homes may include features, decorations, fixtures and chattels that are not intended to be included in the dwelling and such features, decorations, fixtures and chattels shall not be included in the dwelling or under this Agreement unless expressly provided for herein or in any schedules forming part of the Agreement.
The Purchaser acknowledges that wood grain, stone, porcelain and other natural materials to be installed within the Dwelling may vary from Cachet's samples selected in texture, finish appearance and consistency due to the natural composition of these products and therefore agrees to accept all inherent cosmetic variations of such natural products. Should substitution of any colour or material selections specifically chosen by the Purchaser become
necessary, the Purchaser will re-select such substitute material from Cachet's standard samples.
The Purchaser acknowledges that the specifications and finishes in home(s) located at Cachet's other projects may differ from the specifications in model homes and new homes being purchased at the project that is the subject
of this Agreement. Cachet reserves the right to substitute materials with that of equal or better quality.
Cachet is pleased to provide a comprehensive décor service program to assist Purchasers in the selection of interior finishes. Optional upgrade finishes and extra features will be available for additional cost at the time of colour selection.
All references to sizes, measurements, materials, construction styles, trade/brand/industry names or terms may be subject to change or variation within generally accepted industry standards and tolerances. Measurements
may be converted from imperial to metric or vice versa and actual product size may vary slightly as a result. All references to features and finishes are as per applicable plan, model type or elevation, and each item may not be
applicable to every home. Locations of features and finishes are as per plan or at Cachet's sole discretion.
Ceiling height may not be as outlined in the features and finishes list in some areas due to mechanical, electrical, plumbing or structural requirements. As a result some ceiling areas on each level may be lowered in order to
accommodate those requirements. Some areas may be subjected to the use of bulkheads, boxes, archways or beams and Purchaser agrees to unconditionally accept any and all of the required bulkheads, boxes, archways or beams where so ever situated.
Selection of all features and finishes where the purchaser is given the option to select the style and/or colour, shall be made from Cachet's predetermined standard selections.
| | |
| --- | --- |
| Number Of Floors: | 2 |
| Total Finished Area: | 2656 sq ft (247 m2) |
| | |
| --- | --- |
| Bedrooms: | 4 |
| Above Grade: | 4 |
| Full Bathrooms: | 3 |
| Half Bathrooms: | 1 |
| Full Ensuite Bathrooms: | 3 |
| | |
| --- | --- |
| Parking: | Double Garage Attached |
Hamilton B - Village Manor Homes
×