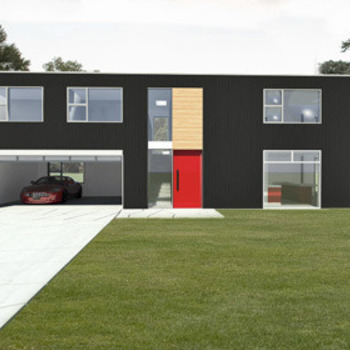 Deluca
PO Box 53016 , Victoria, BC, Canada, V8W 3Z2
Deluca
4 bedroom 2700 sq. ft. home:
Some of the key features of this home design include:
Modern Design
Open floor plan
Concrete construction
Customizable options
Passive Solar design (depending on location) using a South facing design to maximize the sun exposure into home
External Wall Framing is made of concrete
External cladding is made of concrete and can be stained and sealed with architectural impressions
Roofing to meet owner's preferences. Priced for TPO or Torch On.
Insulation under footings 10" EPS styrofoam (R40 effective)
Insulation Under Slab consists of 12" EPS styrofoam (R48 effective)
Insulation Wall includes 8" of styrofoam. (R32 effective) R7 sealed unit windows. Garage door R17
Roof insulation R80 effective.
Windows: Thermally Broken UPVC or Fibreglass, Upgraded Low-E soft coat on north facing windows, east and west elevations. Hard coat on south. triple glaze on north facing windows
Internal Framing consists of fingerjoint 24" centres with single top and bottom plates. internal walls 1/2″ drywall
Heating systems include electric Radiant Floor.
Zehnder HRV System 90% efficient. (Heat Recovery Ventilation)
Passive solar soffit calculation for shading during the warm months
Electrical: 200 amp panel, standard electrical wiring, LED Lighting, alarm system
Cabinets customized to owner`s specifications
Flooring preferences within price guidelines
Gas stove, wall oven x 2, integrated fridge and freezer
Our "less is more" approach with our Green Building techniques use less materials, locally-sourced materials, recycled products where available, on-site recycling, excess materials are used to make furniture or dried and burned as fuel source
0.6 ACH (Air Changes Per Hour)
Annual heating consumption 5,500KWh (22KWh/m2). Does not include general electricity needs.  This estimate will be dependent on building site solar array conditions. Can achieve Passive House criteria of 15KWh/m2 by changing window sizes. The average home in BC is 65KWh/m2 for heating and cooling loads per year.
| | |
| --- | --- |
| Number Of Floors: | 2 |
| Total Finished Area: | 2700 sq ft (251 m2) |
| | |
| --- | --- |
| Bedrooms: | 4 |
| Above Grade: | 4 |
| Full Bathrooms: | 2 |
| | |
| --- | --- |
| Parking: | Double Garage Attached |