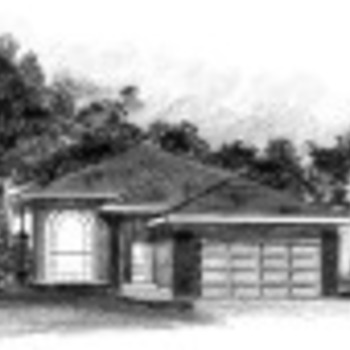 Hampton II
Residential Detached, Bi Level
Features:
1572 Sq Ft
921 SF Basement
Bi-Level
2-3 bedrooms
2-3 bathrooms
Nook
SPECIFICATIONS
 STRUCTURE
All exterior walls and bearing walls sit upon 2900 psi concrete footings sized 8″ x 20″.
8′4″ high basement concrete walls are formed on site of 2900 psi concrete c/w entrapped air.
3 1/2″ 2900 psi concrete basement floor sits over 8″ of compacted gravel.
12′-14′ engineered piles support the garage grade beam, formed of 2900 psi concrete and 10mm rebar.
A 4″ garage floor slab is made of 3988 psi special mix concrete reinforced with rebar and hand trowelled for maximum air entrapment.
Solid wood fir floor joist system enginered to either 12″ o.c., 16″ o.c., or double joist's @ 16″o.c.
Solid fir laminated plywood subfloor.
2×6 exterior walls @ 16″ o.c..
Basement frost walls & interior walls are 2×4 @ 16″ o.c..
EXTERIOR
Brick cladding as per plan elevation drawing.
Double 4.5″ Royal vinyl siding (choice of 18 colors).  Royal AlumniPro fascia and soffit cladding.  5″ eavestroughs.
Trim boards as per elevation drawings are laminated, engineered, resawn timbers with a painted finish.  The resawn face is crucial in its ability to hold a long lasting paint job.
Driveway made of 3988 psi Duramix concrete reinforced with rebar and with support trenches running from the sreet to the garage.  Edges are thickened to 5 1/2″.
Front steps 8′ or less in width are 3988 psi concrete poured in place.  Oversized front verandahs are wood framed.
All exterior concrete is sprayed with a curing compound (not a "cure & seal" product) at the time of placing.  This helps the top layer to bind to the rest of the concrete, forming a more uniformly strong concrete.
30 year laminated fibreglass shingles.
Brick adress pillar c/w plaque and indirect light.
WINDOWS & DOORS
All windows and doors to be manufactured by "Gienow Windows"
Front entrance door to be single fibreglass c/w 1/2 lite Naples Glass and smooth operating, permanently lubricated ball bearing hinges.
All exterior doors feature ball bearing hinges, adjustable striker plates and a smooth fibreglass finish.
Low maintenance Vinyl picture and sliders.  Glass to be clear double glazed.  Rain-glass included for bathroom privacy.
PLUMBING
All fibreglass and acrylic products (showers, soaker tubs etc.) supplied by Hytec Products.
50 US gallon John Wood power vented hot water tank.
All internal water lines to be Bow Pex with home run manifold system.
Water line shut offs for all toilets and sinks included.
Toilet fixtures to be American Standard "Cadet 3″
Kitchen faucets to be single lever chrome with built in spray (Delta 470).
Basin faucets to be chrome single lever (Delta Innovation 580).
Jetted tub faucets to be chrome double lever (Delta Innovation 2730).
Jetted tub included on models with 4-piece ensuite.
Roughed-in triple plumbing included for models without basment development.
Dishwasher hook up included.
Garburator included (model #333 insinkerator).
Barbeque gas line to deck included.
ELECTRICAL MEDIA
100 AMP service with a 32 circuit capacity panel, or as required.
Smoke detectors on all levels of home (including unfinished basements) as required by building code.  Floor levels that have a bedroom present also include a carbon monoxide detector.
Telephone rough-ins in 4 locations.
T.V. cable rough-ins in 3 locations.
Cable modem for High Speed Internet service and a Digital Cable Terminal (DCT) for Digital Cable included.  Shaw to supply 3 months of free cable upon hook up.
Plug c/w bell wire for infrared sensor of overhead operator in garage included.
All switches to be white "Decora" style (plugs not included).
Soffit plug and switch included.
Rough in switch and hook up of Garburator included.
Wiring for address pillar included.
Wiring for whirlpool included.
Light fixtures included up to ($.80 per square foot excluding GST).
HEATING
One gas fired Lennox Merit 90 G43 high efficiency furnace.
Lennox WB2-17 bypass Healthy Climate humidifier included.
White Roger 1F80-361 set back programmable digital thermostat(s) included.
Lennox Merv10 high efficiency pleated media air cleaner.
If the basement level is developed heat ducts are mounted in ceiling and return airs to be run down to floor and placed in recreation room plus additional bedrooms.
INSULATION TO PAINT
Basement perimeter frost walls are wood framed and insulated with R12 c/w 6mil polyethylene vapour barrier.
All home exterior walls are insulated with R-20 owens corning pink fibreglass insulation.
Roofs (including garage) are insulated with R-40 loose fill fibreglass insulation.  (This has less settlement than cellulose)
Every effort is made to ensure the home is airtight as possible:
Vapour barriers are caulked at all wall plate intersections.  (including basements and garages)
The entire perimeter is caulked at the joist/foundation intersection with acoustical sealant.
Windows are sealed and insulated with low expanding polyurethane foam.
Header joist ends are insulated with 2″ Rigid EPS insulation…another Salvi innovation providing an R-value of 30.  With out this method the floor system is virtually uninsulated @ joist nailing intersections.
Walls are drywalled with 1/2″ board.  Screwed on exterior walls and nailed and glued on interior walls.
1/2″ non sag drywall for ceilings.
Cement board is used for shower and other high moisture areas.
Splatter coat texture for all finished ceilings.
Soft line corner bead for all vertical corners in main living areas. (Excludes closed off areas – bed's, bath's, etc.)
WOODWORK AND TRIM
Choice of 3 distinct interior door styles; 2 Panel shaker or 3 panel craftsman or Sante-Fe.
Kitchen pantry door to be flat slab oak.  Finished with conversion varnish.
Painted 3 1/4″ window casings.
Painted 3 1/4″ baseboard.
Cove crown door headers for all main living areas.
All closet shelving to be cabinet grade white melamine c/w solid poplar varnished edge nosing.
Master bedroom c/w closet organizer and tower utility cabinet c/w 2 drawers.
All bathrooms c/w custom wood mirror wraps.
All stub walls are capped with solid wood.
CABINETS & COUNTERTOPS
All cabinets custom sized and built to fit by Salvi's own artisans.
All drawers to be blum metabox system (powder coated steel sides and slides).
Blu-motion soft close pistons included for all kitchen upper doors.
Two tier double cutlery tray c/w ball bearing slides.
Undersink tip out soap trays and undercounter garbage bin.
All island backs to be finished in wood (not drywall).
All gable ends to be high grade (A-face) real wood veneer.
European crown molding included for kitchens.
All wood work finished with a 4 step process high solids conversion varnish.
Kitchen counters to be either 1 1/4″ granite (choice of 6 colors) or 3/4″ granite (28 colors + or -).
Bathroom counters to be bevel-edge laminate c/w upgraded "crystal" finish.
Option of 1 medicine cabinet or bank of drawers per bathroom.
Hinged bench seat (on specified models) with a shelf/hooks above in utility room.
FLOOR COVERINGS
Allowance of $5.19 per sqft.
All floorcoverings are picked from our in house design center…from exotic hardwoods, to high density carpet, to imported Italian tile.
Saxony or Frieze carpeted areas feature Fortress 7 Lb. density 3/8″ thick underpad.
Berber carpeted areas feature Ecotek Gold 6.5lb density 3/8″ thick fibreglass reinforced underpad.
Appalachian hardwood if applicable to be properly seasoned and acclimatized prior to install.  This could even require the use of dehumidifiers to ensure a long lasting gap free installation.
Tile areas if applicable are to be installed over 3/8″ spruce plywood underlay with a quality polymer modified thin set.
HARDWARE
All door hardware by Weiser lock.
Interior passage sets to be "Aspen" lever handles c/w brushed chrome finish.
Front entrace handle to be "Colonade" c/w brushed chrome finish.
Paper holders and towel bars to be Taymor "Naples" series c/w satin nickel finish.
Shower door frames to be satin nickel.
| | |
| --- | --- |
| Total Finished Area: | 1572 sq ft (146 m2) |
| | |
| --- | --- |
| Bedrooms: | 2 |
| Above Grade: | 2 |
| Full Bathrooms: | 2 |
| Full Ensuite Bathrooms: | 1 |
| | |
| --- | --- |
| Parking: | Double Garage Attached |